So, this past week I got a chance to visit Vienna. Beside stuffing my stomach with cakes and watching the concert of Wiener Virtuosen with Thomas Hampson & Klaus Florian Vogt in Musikverein, I also went to Wiener Staatsoper. Yes, Vienna State Opera. Netrebko is in town and as usual, all hell breaks loose. All tickets are sold out since day one of ticket sale and the last minute ones are super expensive. So I went for the standing places. In Parterre. The price is 4 Euro. Equally the same experience as the loge seats that cost 200 Euro. You only need more muscles, because of the standing part.
First of all, Falk Richter's 6-year-old production is a catastrophe. It's neither romantic nor innovative. A regietheater-labeled product that actually provided no further insight into the story or its characters. If it wasn't for the singers, who succeeded to sing and pour out their emotions, this production would end in the garbage. Such a shame that they waste a huge amount of fake snow on this production.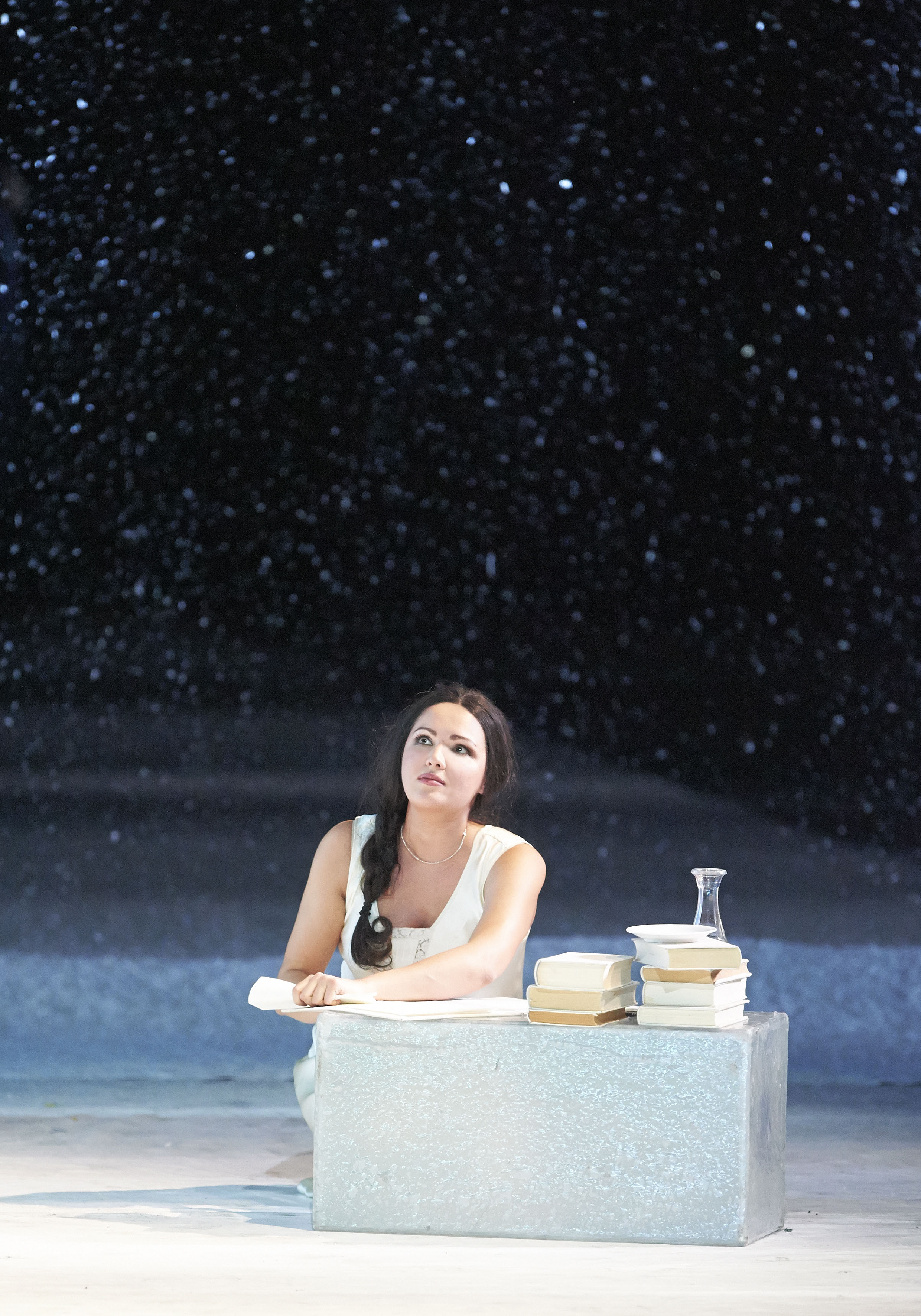 The star of the night was Netrebko. Her dark sopran voice may not be the most suitable one for the young & innocent Tatjana in the first two acts, but she really convinced the audience through great acting and stage presence (as usual). The drastic change in Tatjana's figure in the third act was quite astonishing; here comes the independent young woman which perfectly fits Netrebko's voice and huge charisma. It's definitely a perfect role for Netrebko, she has waited for years to sing Tatjana (her Russian Album was released 10 years ago, she started to sing this role since 2 years ago). It's really sad, that the production doesn't give much "accent" to Tatjana, it made Netrebko's huge effort ended visually halfway. Final note: the brief scene was simply gorgeous. Viva Netrebko.
Christopher Maltman gave a solid Onegin, although I think the russian operas are still not his main strength. Perhaps he should only sing this role more often in the future. Also celebrated that night was Dmitry Korchak, who sang the brilliant Lenski's aria "Kuda, kuda".
Ferruccio Furlanetto, an austrian chamber singer, made a short, but quite impressive appearance as Furst Gremin.
Patrick Lange conducted in the right tempo, although the fireworks and passion were missing.
Because it was a revival and Netrebko has also appeared on this role in the very same boring production with "better ensemble" two years ago, the "festive" mood was a little bit low. But there was still a lot of bravos shouted out loud.
I'm coming back for another Netrebko feast in this house in June. Manon Lescaut for 4 Euro plus 8 hours waiting in line & standing, here I come.